Congress & Exhibition Venue
The ITS European Congress sessions and Exhibition take place at the Evoluon Congress Centre in Eindhoven.
Address Evoluon:
Noord Brabantlaan 1A
5652 LA Eindhoven
The Netherlands
T: +31 40 25 04 620
Please note that the demonstrations take place at the Automotive Campus premises in Helmond or will run on the corridor between the Evoluon and the Helmond Automotive Campus. Shuttle service will be provided for delegates.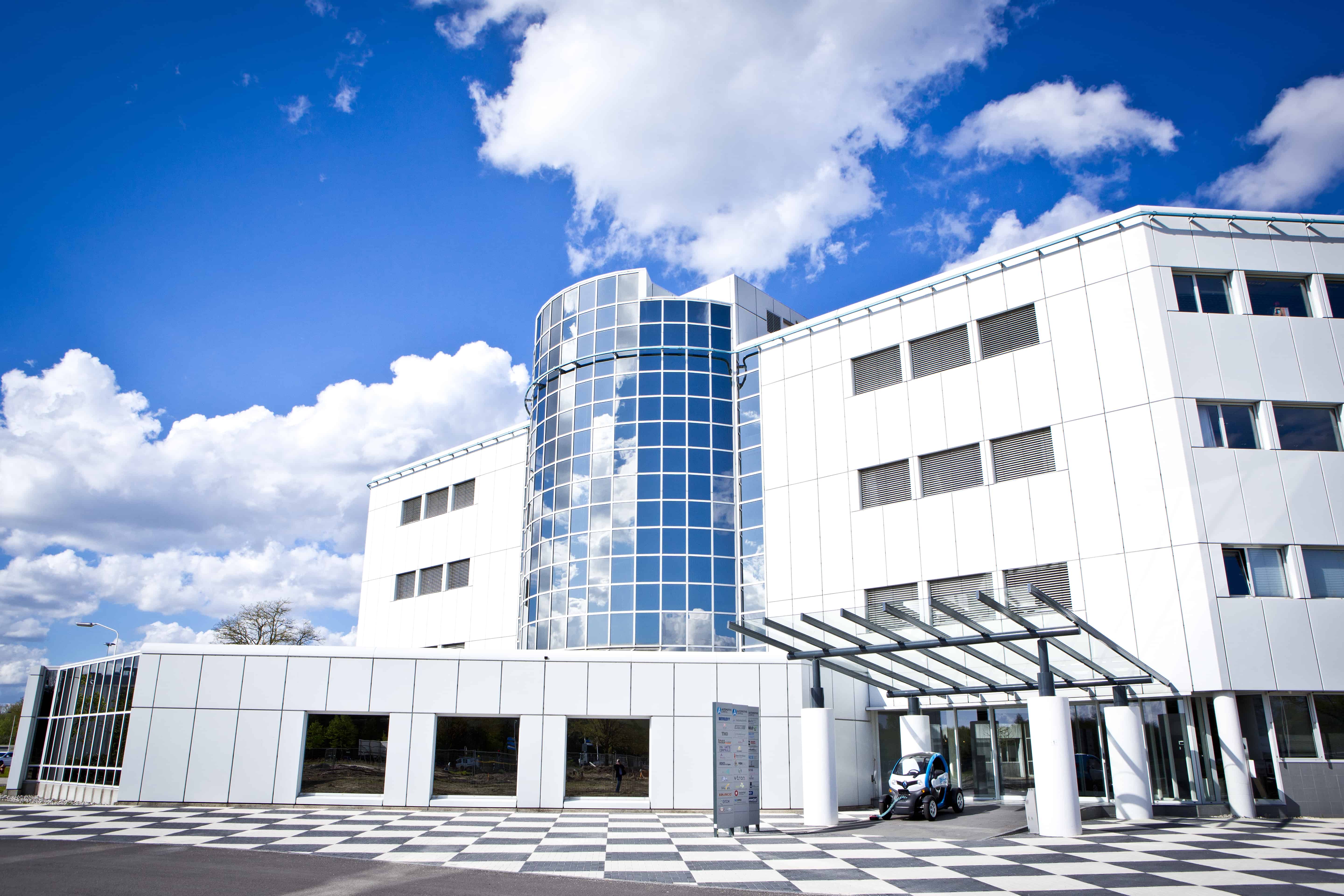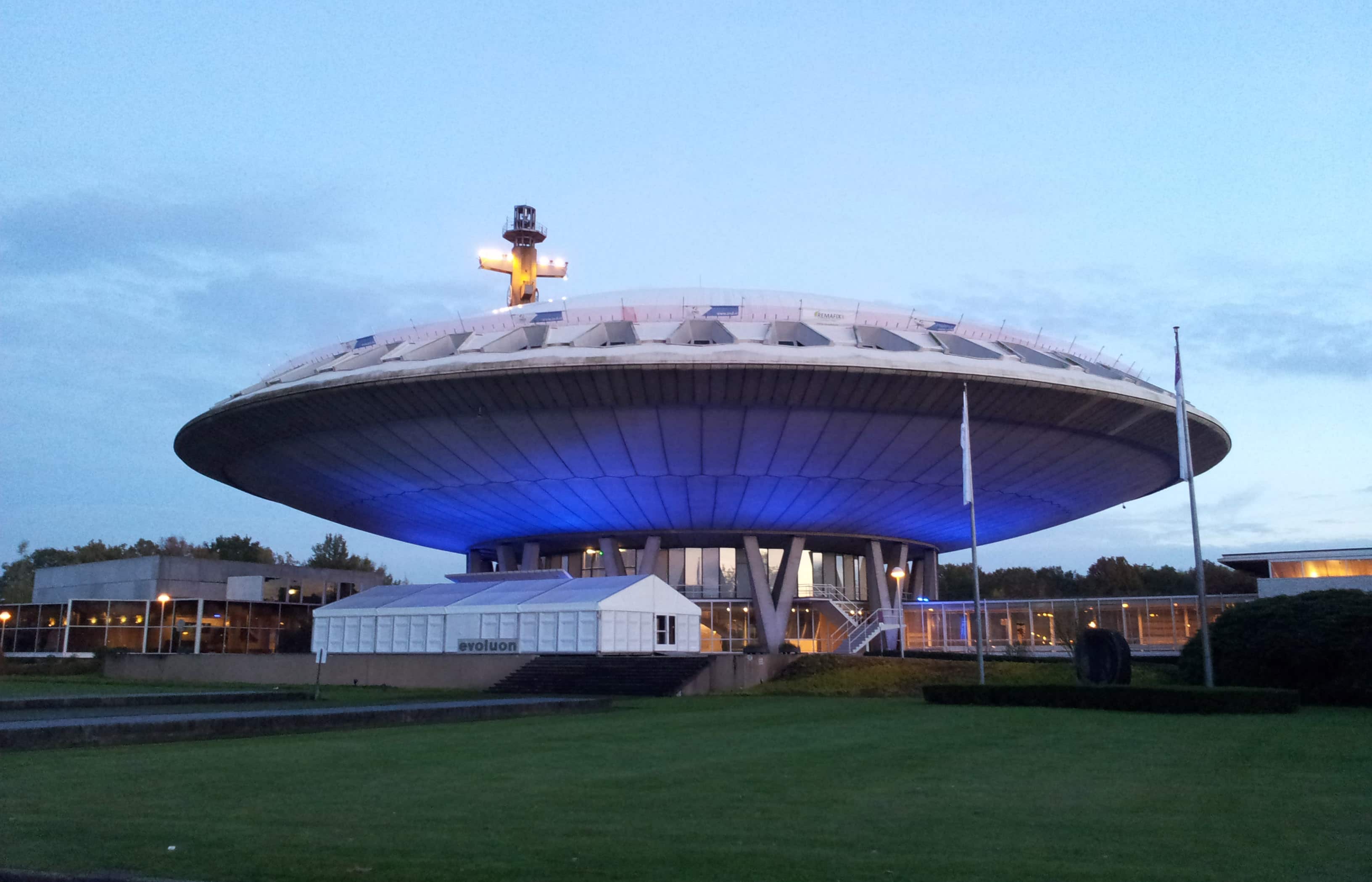 A UFO Has Landed
The Evoluon mostly puts people in mind of a UFO having landed in Eindhoven. Its extraordinary shape, making it look like a UFO, has turned it into an icon in the city of Eindhoven. The building was based on an original idea of Frits Philip. The unusual design meant many calculations were needed to make sure the 77-meter concrete dome was properly supported. Concentric rings line the dome like circular balconies and are now used for events. In the late 1980s, the building was renovated and expanded to be used for receptions and conferences for the Philips company. Later on in the 1990s the Philips Hall auditorium, meeting rooms, and VIP suites were added. The Evoluon is now available for conferences, meetings, and events.
Evoluon Eindhoven History
Originally a science museum, the distinctively designed Evoluon in Eindhoven is now a sleek, modern conference centre. This famous landmark can accommodate up to 1500 visitors. Frits Philips commissioned the Evoluon to commemorate the Philips company's 75th anniversary in 1966 and gifted it to the public. The Evoluon was extremely popular, attracting over 500,000 visitors in 1970 with its thought-provoking science and technology exhibits that encouraged visitor interaction.
How to get to the Evoluon
Located in the heart of Brabant next to the A2, the Evoluon is most accessible. Den Bosch, Tilburg and Weert are less than half an hour away and Utrecht, Rotterdam or Maastricht not even one hour! The Evoluon is easily accessible by public transport. For this reason, we encourage all delegates and visitors to use public transport as a means of transportation. Train passengers can travel from Eindhoven Central Station to the Evoluon within 7 minutes. From Eindhoven Airport a direct bus line takes you to the Evoluon within 7 minutes. On an average day, buses will depart every 5 minutes from Eindhoven Central Station to the Evoluon.
You can also borrow a bike at the Eindhoven Central Station for the last mile. With the 'OV-fiets' (public transport bike) you will arrive at the Evoluon congress centre within 15 minutes cycling from Eindhoven Central Station.
Every 15 minutes a train leaves from Schiphol Airport to Eindhoven Central Station.
By car it takes less than an hour driving from Utrecht, Rotterdam and Maastricht to go to the Evoluon. Amsterdam and Schiphol are about 75 minutes driving away. From the motorway you are able to drive directly to our parking lot with over 500 parking spaces, located on the edge of the centre of Eindhoven.
For more info and route description, please visit: https://evoluon.com/en/contact/address-and-route