The 13th ITS European Congress Programme offers delegates an unparalleled opportunity to learn about the latest ITS technologies and new mobility concepts.
Not sure which session to join? It could be a tough choice amongst 100+ sessions and workshops from Monday to Thursday, along with several other exciting events, tours and demos lined up during the week.

The interactive timetable gives you details regarding each individual session. Session organisers will regularly update their speaker lineup.

The Programme at a Glance gives you an overview of the sessions during the Congress week.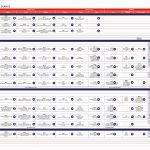 Join the discussions on policy issues, research findings and share best practices around the Congress main theme  "Fulfilling ITS Promises". In addition to Technical/Scientific and Special sessions addressing  the seven topics, Plenary and Executive sessions will focus on three main streams: Smart Cities, Integrated Mobility and Automation.  Sessions will be presented in various formats.
Sunday
2 June 2019
Monday
3 June 2019
Tuesday
4 June 2019
Wednesday
5 June 2019
Thursday
6 June 2019
Friday
7 June 2019
MORNING

Public Day


Demonstrations
Implementation Visits
Conference
Plenary Session 1

Conference & Exhibition

Demonstrations
&
Implementation Visits
Mayors / Industry Leaders Summit

Plenary Session 2

Conference & Exhibition

Demonstrations
&
Implementation Visits
Conference & Exhibition

Demonstrations
&
Implementation Visits
Implementation
Visits
AFTERNOON

Opening Ceremony

Conference & Exhibition

Demonstrations
&
Implementation Visits
Conference & Exhibition

Demonstrations
&
Implementation Visits
Plenary Session 3
&


Closing Ceremony

EVENING
Exhibition Opening
&
Welcome Reception

Your Future Festival

ITS Dinner Time
| Smart Cities stream | Automation stream | MaaS stream |
| --- | --- | --- |
| Preparing cities and regions for transition into smart mobility | How far are we and how ready is the public for higher level of automation? | The journey towards moving people and goods efficiently, safely and cleanly |
| Plenary Session: How do cities benefit from ITS? | Plenary Session: Automated mobility – how far are we ? | Plenary Session: Integrated mobility today |
| Start-up talk: Alternative transport modes in the mobility options | Start-up talk: Wing drones for good | Start-up talk: Mobility is a joint effort! |
| Dialogue: Smart Mobility - more hype than reality? | Dialogue: What do the citizens want? | Dialogue: Are silos and 'walled gardens' threatening open mobility innovations? |
| Panel discussion: Urban Air Mobility Panel discussion: Sustainable Mobility for al | Panel discussion: Optimising conditions for road safety Panel discussion: The road towards high level automation | Panel discussion: MaaS circular economy approach to mobility |