Visit the ITS European Congress Public Day on Sunday 2 June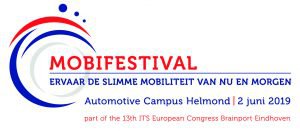 On Sunday 2 June we are starting the ITS European Congress activities with a Public Day. As a delegate of the congress you are kindly invited to attend this day's activities. With its motto 'Fulfilling ITS promises', the 13th ITS Europe Congress is all about impactful, innovative technologies that make our life and mobility more enjoyable, safer and cleaner. That is why we also wanted to involve the general public, which are in fact the users or future users of ITS-technology. The Public Day on Sunday 2 June will be held at the Automotive Campus in Helmond, between 13.00 and 17.00 hrs.
During this day people are invited to get up to speed with the various applications of ITS, to learn more about smart mobility and to try out new hands-on technologies. Furthermore, the attendees will be able to witness multiple innovative demonstrations, which are part of the ITS European Congress.
At this moment we are determining the precise content of the programme. Once the full programme is known, it will be published on this page.