On Thursday 6 June at the Closing Ceremony of the ITS European Congress Brainport, ERTICO revealed the winners of a dedicated start-up programme. The winners of the public prize were: Karhoo, a digital marketplace dedicated to urban mobility connecting fleets and customers worldwide and Iomob, an open mobility platform for the world. A professional jury chose Mellowcabs as the most promising start-up of the week.
In an initiative sponsored by Deloitte and in 6 sessions spread over 2 days, a near total of 40 start-ups presented their ideas to companies and experts with the experience to scale up these start-ups and take them to the next level.
 "We are impressed with the good ideas and initiatives we've seen from these start-ups, and they all have something distinctive: Iomob is fantastic in their future vision and choice of strategic partners to match their roadmap for growth. Karhoo has a much needed holistic approach originating from public transport platforms all the way to user's front doors. We're happy that the visitors of the Congress have seen this! And as a jury we have chosen Mellowcabs because of their transportation solution and accompanying business model through validation with an influential partner." Chris Huijboom, HAN University of applied science and President of the Jury
"We at Mellowcabs, strongly believe that our new LEV concept (Light Electrical Vehicle) will enable a more efficient and sustainable urban mobility in the near future. This award of most promising start-up from the ITS Congress, delivered by mobility professionals, is an acknowledgement of that belief. And therefore we are honoured. With already 500 vehicles in back-order in the Sub-Sahara region we believe the future is looking bright. And we are looking forward to launch Mellowcabs in Europe later this year. So look out for our kick-ass vehicle! Thanks once again!" said Benoit Becker and Neil de Preez from Mellowcabs in response to their award.
On Wednesday of this exciting week, ERTICO also launched its new Start-up Initiative – a mentorship and match-making programme that offers start-ups the opportunity to benefit from ERTICO's network of partners and to work with European industry leaders in smart mobility, connected and automated driving, clean mobility, transport and logistics, and urban mobility.
The Start-up area was officially opened on Monday at the ITS European Congress Brainport Eindhoven by Frans Timmermans, First Vice-President of the European Commission, Elly Blanksma, Mayor of Helmond, Jacob Bangsgaard, CEO of ERTICO, Matthijs van Miltenburg, MEP and Congress Ambassador, and Nico Anten, Executive Chairman of Connekt/ITS Netherlands.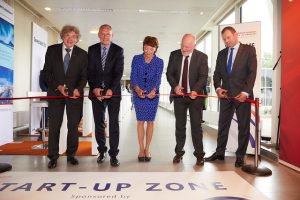 For further information on start-ups and on the ITS Congress please contact:
Cordelia Wilson c.wilson@mail.ertico.com +32 477 286128
On behalf of the Dutch host committee: Iris Casteren van Cattenburch, Connekt, iris.casteren@connekt.nl, +31 6 245 738 26, +31 15 251 65 65.